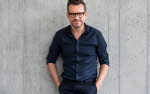 Bart Moeyaert
Born in Belgium in 1964, Bart Moeyaert is a multi-award winning author who has written for children and young people since his debut at age 19. His large and diverse body of work encompasses over fifty titles, ranging from picture books and YA works to poetry, plays, song lyrics, television screenplays and essays.
The jury's motivation
"Bart Moeyaert's condensed and musical language vibrates with suppressed emotions and unspoken desires. He portrays relationships at crisis point with a cinematic immediacy, even as his complex narratives suggest new ways forward. Bart Moeyaert's luminous work underscores the fact that books for children and young people have a self-evident place in world literature."
Bart Moeyaert made his debut as a writer in 1983. He grew up as the youngest of seven brothers in the Belgian city of Bruges. In interviews, he often tells about how as a child he used to sit under the dinner table and listen to everyone else's stories, which gave him lots of material for his future life as a writer. While growing up, he felt that it was safer to write than to speak, because he liked to think and take time before he started talking.

When I was nine I read Astrid Lindgren's books and the world of Astrid Lindgren was like my own family and the real world was like hers. And later I saw that her world was about inclusion. And that was comforting because I was a loner in my big family since I was the youngest. And this influenced my work. /Bart Moeyaert.

Bart Moeyaert has a literary language that is compressed and musical, and a suggestively charged narrative technique that conveys a filmlike sense of immediacy. He works in shades of grey. He draws no easy lines between good and evil, heroes and villains. Instead, he puts complex relationships under the loupe. Nor does Moeyaert serve up clear-cut happy endings. Instead, the onward path reveals itself in a comprehension of the circumstances and in the characters themselves.