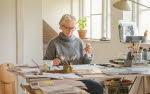 Portrays moods and emotions
Eva Lindström (b. 1952) is a Swedish picture book artist. She has published some 35 solo titles and has illustrated many books by other authors. Her work has been honored with multiple awards. She writes stories that shift between the everyday and the existential, combining shrewd humour with absurd mystery.
Quick facts
Profession
Picture book artist
The jury's motivation
"Eva Lindström's enigmatic picture world is constantly transforming. Trees move abroad, dogs take on giant proportions and objects vanish, suddenly to reappear. With rapid brush strokes and dense colouration, Eva Lindström creates an ambiguous dialogue of text and image. The border between children, adults and animals is fluid. With great gravity and wild humour, they wrestle with the eternal questions: Who are we? Where are we going? Who took our hats?"
Eva Lindström was born in 1952 and educated at Västerås Konstskola (the Västerås School of Art) and Konstfack (the University of Arts, Crafts, and Design) in Stockholm. Her extensive literary production for children began in the 1980s and has garnered many awards. In addition to authoring her own books, she has also illustrated books for other authors and has made three animated short films. Some of her books have also received film adaptations. In her latest picture book Ingenting är omöjligt för oss (Nothing Is Impossible for Us, 2021), the reader follows two small children and their dog as they land on another planet. The story conveys a sense of both isolation and community, as well pangs of loss for a missing father.

Eva Lindström has an altogether special profile among Swedish picture book artists. In both words and images, she portrays moods and emotions that may relate equally to big life questions and to the everyday events around which a child's life revolves. She often takes her point of departure in the world of children's experiences and logic. In a number of books, she captures the kinds of exciting dramas that play out among children. Her unusual narrative worlds, through which odd, lost, characters wander, possess enormous originality. Shrewd humour exists side by side with absurd mystery. The lines that separate children from adults are often vanishingly thin; the same applies to the lines between people and animals.

Eva Lindström's immensely varied stories are capable of many interpretations and reward slow and thoughtful reading. Her uncompromising, boundary-crossing style has qualities that enable her to reach far beyond the intended target group for picture books.

The award ceremony takes place on May 30 in Stockholm.

For pictures, please visit the publishing house Alfabeta


Download a poster of the 2022 laureate (pdf)