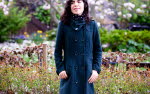 From the eye level of the child
Marisol Misenta, widely known as Isol, is an Argentinian picture book artist, cartoonist, graphic artist, author, singer and composer. She debuted in 1997 and has been published in around twenty countries. Her style is expressive and at times explosive, using a sophisticated technique of double outlines and deliberate print misregistration where the lines and colours are not completely aligned.
The jury's motivation
"Isol creates picture books from the eye level of the child. Her pictures vibrate with energy and explosive emotions. With a restrained palette and ever-innovative pictorial solutions, she shifts ingrained perspectives and pushes the boundaries of the picturebook medium. Taking children's clear view of the world as her starting point, she addresses their questions with forceful artistic expression and offers open answers. With liberating humour and levity, she also deals with the darker aspects of existence."
Isol is an illustrator, cartoonist, graphic artist, writer, singer and composer. She was born in 1972 and lives and works in Argentina.

Isol was born Marisol Misenta in Buenos Aires in 1972. She began her artistic education at the Escuela Nacional de Belles Artes, "Rogelio Yrurtia", studying to be an art teacher, followed by a couple of years at the Academy of Fine Arts in Buenos Aires.

Isol is the writer and illustrator of about 10 published titles and has illustrated a similar number of published works by other authors. She made her debut in 1997 with Vida de perros, the story of a little boy who sees clear similarities between himself and his dog. Some of the characteristic features of Isol's art were already present in this work: an expressive, sometimes explosive style with a muted colour palette, double outlines and deliberate misregistration in the colour printing of the motifs, where the lines and colours are not completely aligned.

The stories are humorous with surprising twists, occasionally philosophical and always subtle. Isol is on the children's side, seeing the world through their eyes and exposing the absurdities of the adult world. El Globo (2002) describes an angry, loud-mouthed mother who is transformed into a balloon. In Petit, el monstruo (2007), a child tries to figure out why his behaviour is considered praiseworthy on one occasion but cause for scolding on another.

Isol is constantly exploring new formats and forms for the books themselves. Tener un patito es útil (2007) can be read from two directions with two different results: one story about what a boy can use a duck for, and another story showing what a duck can use a boy for. Nocturno (2011) is a beautiful introduction to the night's dreams, printed in fluorescent colours that are best enjoyed in the dark. Isol's great talent as a picturebook author is apparent in the overall experience created by the dramatic composition, the choice of colours and the intensity of the drawn line.

Her long-standing collaboration with Argentinian poet Jorge Luján has produced a large number of books where Isol, through her illustrations, is the story's co-author rather than an illustrator in the conventional sense. Her works have been published in some 20 countries.