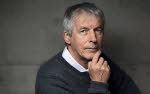 A brilliant renewer of fairy tale traditions
Jean-Claude Mourlevat is one of France's leading children and young adult authors. With a particular love for fairy tale, fable and fantasy, he draws on literary traditions to create worlds that resemble no other. Since his publishing debut in 1997, his books have been translated into nearly 30 languages.
Quick facts
Name
Jean-Claude Mourlevat
Formative reading experience
Reading Robinson Crusoe by Daniel Defoe at age ten. 'I was very shaken by what I read. I had the impression that a voice was speaking to me: the voice of a young boy like me, experiencing the same kind of loneliness.'
The jury's motivation
"Jean-Claude Mourlevat is a brilliant renewer of fairy tale traditions, open to both hardship and beauty. Time and space are suspended in his fictional worlds, and eternal themes of love and longing, vulnerability and war are portrayed in precise and dreamlike prose. Mourlevat's ever-surprising work pins the fabric of ancient epic onto a contemporary reality."
Jean-Claude Mourlevat began his working life as a German teacher before changing paths and working as an actor, clown and director. It was the theater that led him to begin writing, and in 1997 he made his authorial debut with the picture book Histoire de l'enfant et de l'oeuf.

Jean-Claude Mourlevat's writing is wide-ranging and diverse. He writes novels of social critique, but has a particular fondness for the fairy tale, fable and fantasy genres. He surprises readers with each new book, assuming new guises and using unexpected narrative devices. References to classic works, metaphor and simile link his stories to the present day.

A love of books and literature flows through all his writing. This may be because he spent his childhood in a home with almost no books. Jean-Claude Mourlevat grew up on a farm as the fifth of six siblings. He spent eight years at a boarding school where the rules were harsh, the teachers strict and he felt constantly homesick and unhappy. He has said in interviews that literature became his salvation.

Photo: © C. Helie/Gallimard