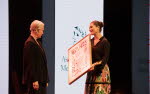 Award ceremony 2022
The applause never seemed to end when Eva Lindström recieved the 2022 Astrid Lindgren Memorial Award in Konserthuset in Stockholm on Monday, 30 May. The award was presented by H.R.H. Crown Princess Victoria of Sweden.
This year marks the 20th anniversary of the Astrid Lindgren Memorial Award. Since the creation of the award, the ALMA jury has selected 22 laureates from around the world, including authors, illustrators, and reading promotion organisations. The 2022 laureate is the Swedish picture book artist Eva Lindström.
The jury's citation reads:
With rapid brush strokes and dense colouration, Eva Lindström creates an ambiguous dialogue of text and image. The border between children, adults and animals is fluid. With great gravity and wild humour, they wrestle with the eternal questions: Who are we? Where are we going? Who took our hats?
Apart from the prize sum, 5 million SEK, Eva Lindström received a diploma, presented by H.R.H. Crown Princess Victoria of Sweden. The diploma is created by Emma AdBåge och Henning Trollbäck.
The ceremony was hosted by the actor and television presenter Philomène Grandin and Sirqus Alfon gave a music/circus crossover performance.
Photos